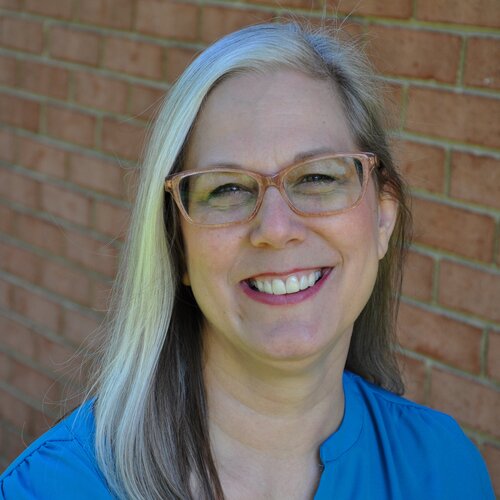 One of our strategic goals at TDS is to work on expanding our performing arts offerings. To that end, we brought in a new drama teacher this year in order to offer more sections of drama to our middle school students. We were lucky enough to find Rachel Klem, who has worked for many years in the Triangle as a director, actor, and playwright. Many of our TDS students may already be familiar with her from camps or field trips at the Common Ground Theatre!
Where were you on your teaching journey before joining us at TDS?
I worked at NC State from 2004–2020 in the theatre program. Most recently, I have taught at Cape Cod Community College, Raleigh Little Theatre, and the Museum of Life and Science.
What is your favorite thing about TDS so far?
I love the core values of TDS, especially compassion and JOY! Drama really thrives through those values.
Family and Pets?
I have two kids (19 and 22), both in college (App State and ECU). My sister lives nearby, my mom is in Asheville, and my niece is in Charlotte. We are a small but mighty family who loves getting together at holidays! I have 3 dogs, all mutts: Buttercup, Bean, and Denali. They are very sweet but have totally different personalities.
Hobbies and Interests?
I really like to walk, watch scary movies on Netflix, and play Woodoku. Mostly, though, I spend my extra time reading plays and going to see live theatre. My favorite thing to do is direct shows for local theatre companies.
Favorite…
Food: Pizza or sushi
Drink: Coke
Movie: The Wizard of Oz
Book: Too many favorite books to choose from — Where the Red Fern Grows probably affected me the most
Artist: Chagall
Team: No sports team, but there are some theatre companies that I really respect, such as Punchdrunk in the UK.
Fun Fact:
I worked in the Entertainment Department at Navy Pier in Chicago for several years, where I performed for hundreds to thousands of people a day. My favorite character was Stinky the Elf.