Lower School
In Lower School, rich co-curricular programs combine with high-quality instruction in the core areas of reading, writing, mathematics, social studies, and science. In addition to their main classroom experience, students in Transitional Kindergarten through fifth grade attend complementary classes in Spanish, art, physical education, music, and character education.
Throughout the year, field trips and guest speakers enrich the classroom experience. A Buddies program builds community within the Lower School. Building on students' natural curiosity and enthusiasm for learning, the Lower School lays the foundation for academic achievement while fostering social skills, self-confidence, and respect for peers and adults.
---
Lower School Curriculum
Language Arts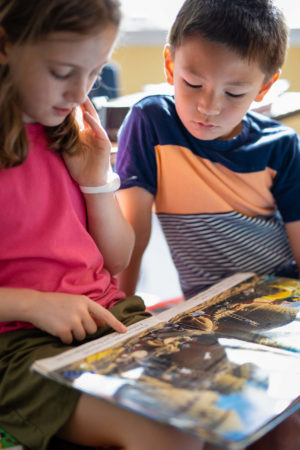 Transitional Kindergarten
TK students develop their oral language and vocabulary through games and play. Teachers focus on phonological awareness activities to lay a strong foundation for reading and writing. Students practice reading and writing letters to communicate through writing. Letter formation is formally developed using Zaner-Bloser manuscript materials. Young readers engage in poems, songs, shared readings, and read alouds.
Kindergarten – 2nd
Literacy instruction in the primary grades balances phonics and decoding instruction with literature studies to develop thoughtful, engaged, and fluent readers. Students receive individualized spelling, phonics, and vocabulary instruction during word study. Students progress through the developmental spelling continuum using Words Their Way materials. Our younger students practice decoding, fluency, and comprehension in guided reading groups. Students enjoy the many leveled books from the Fountas and Pinnell Classroom Guided Reading collection, along with shared readings and read alouds. Young writers develop writing fluency, mechanics, and writer's craft following the Writing Units of Study from Columbia University's Teachers College. The units include a variety of narrative, information, and opinion writing. Handwriting is formally developed using Zaner-Bloser manuscript materials.
3rd – 5th
As upper elementary students are inspired to become deep thinkers, independent readers, and eloquent writers, they are immersed in a variety of texts to learn about comprehending more difficult material. Students read and analyze engaging text sets following the Reading Units of Study from Columbia University's Teachers College. While reading a particular genre, students develop their writing of that same genre following the Writing Units of Study. The units include a variety of narrative, information, and opinion writing. Upper elementary students also receive individualized spelling, phonics, and vocabulary instruction during word study. Students progress through the developmental spelling continuum using Words Their Way materials. Handwriting is formally developed using Zaner-Bloser cursive materials
Mathematics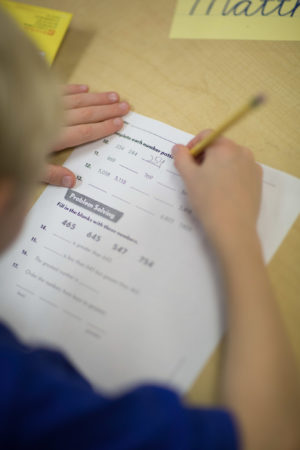 TK – 2nd
Through exploration and guided practice, skill-building activities, games, centers, and numeracy integrated with other subject areas, students come to see that math is everywhere in their world. Math instruction gives students the tools they need to be able to use math in their everyday lives. Students work at mastering concepts through a variety of instructional presentations, incorporating visual, auditory, technological, kinesthetic, concrete, and abstract methods for all different types of learners.  Problem-solving activities encourage them to use logical thinking and to look for many ways to find answers. The main areas of focus are number sense, computation, algebraic thinking, geometry, measurement, and graphing.
3rd – 5th
Students are encouraged to use a variety of strategies, including written practice, small group activities, skill drills, and games, to foster mathematical intuition and understanding. The math program stresses problem-solving and real-life applications, and mathematical processes are applied across the curriculum so that students begin to see the power of mathematics in their lives. Topics explored include numeration, operations and computation, patterns, algebraic thinking and algebra readiness, fractions, decimals, measurement, and geometry.
Science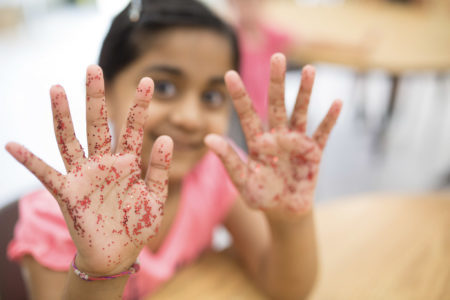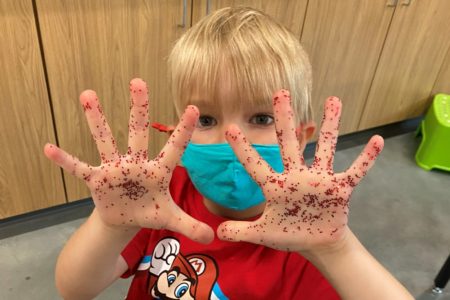 TK – 2nd
In science, students begin to understand the world we live in by exploring earth, health, life, and physical science. Using hands-on experiments, center activities, discussions, literature, field trips, and projects, teachers encourage students to think critically and to apply their scientific understanding to the world around them. Topics studied include plants and animals, weather, matter, geology, and astronomy. The classroom experience is supplemented with Science Lab. Students attend Science Lab twice weekly, performing a variety of experiments and activities.
3rd – 5th
Science classes encourage students to explore the world around them as they focus on the systems and patterns that provide order to it. In order to cultivate students' scientific understandings and skills, teachers rely on a mixture of instructional strategies: demonstrations, hands-on experiments, discussions, videos, readings, guest speakers, projects, and field trips. In addition to their regular classroom instruction, students also work in the science lab to further apply their skills and knowledge.  They use technology to research hypotheses, analyze data, and present findings.
Social Studies
TK – 2nd
The primary goal of social studies is to encourage students to explore their world. Students learn about geography and different cultures and begin to recognize and appreciate similarities and differences among cultural groups. Group discussions, projects, and hands-on activities provide opportunities for students to examine communities and to practice respect and responsibility.
3rd – 5th
Students work towards an understanding of the world around them and their roles within it. By examining communities, both near and far, as well as present and past, students come to understand geographic, political, economic, and social concepts and systems. Then, they are able to make comparisons across place and time using their knowledge and experiences.  In 4th and 5th grades, students study North Carolina history and United States history, respectively.  They begin to hone in on the details of specific areas and start connecting the past with their present.
Complements - Spanish, Art, Music and Physical Education
Spanish
The Spanish program encourages students to make connections between the Spanish language and cultures and their own language and cultures. Students at all grade levels sing, dance, move, draw, read, and write as they develop Spanish language skills and understanding.  Conversational Spanish is a strong focus as well.  In addition, math, social studies, literacy, music, and art are integrated into the Spanish curriculum.
Art
This course exposes students to a variety of media, techniques, and artists' works. There is a focus on elements of art and the principles of design, as well as an effort to integrate art into the academic subjects. For example, fourth graders create perspective drawings and models with scale factors as they learn about proportions in math. In order to foster an appreciation for art, artworks are connected to artists and art history movements.
During the 2019-2020 school year, Lower School students will study the following topics:
M.C. Escher (1898 – 1972) – A Dutch artist famous for his tessellations and mathematical themes. After learning about his life and seeing examples of his work, students create tessellations and drawings of simple fractal designs.
Native American Art – Students learn the history and stories common to several Native American cultures, seeing examples of this art form to inspire them to create their own drawings, paintings and ceramics.
Medieval Art – Students learn the history of Medieval Art and see examples of its architecture, manuscript, and symbols. They use these examples as inspiration to create mosaic patterned tiles as well as drawings and paintings.
Paul Klee (1879-1940) – A Swiss artist who developed color theory and created artwork in a unique, "Cubist/Surrealist" style. Students learn about Klee's life and teachings on color theory, applying his teachings as they create artwork inspired by Klee's humor and childlike perspective.
Japanese and Chinese Art – Students learn the history and evolution of this ancient style of art, including ink brush paintings, woodblock prints and (current and popular) Manga style drawings that are seen in graphic novels. Students learn to create brush paintings, a simple print, and their own manga figures.
Diego Rivera (1886 – 1957) – A Mexican artist famous for his large murals found in Mexico City, San Francisco, Detroit, and other places. Students see examples of his work and also the work of his wife, the artist, Frida Khalo before creating murals and drawings that are able to show emotion and tell stories.
Music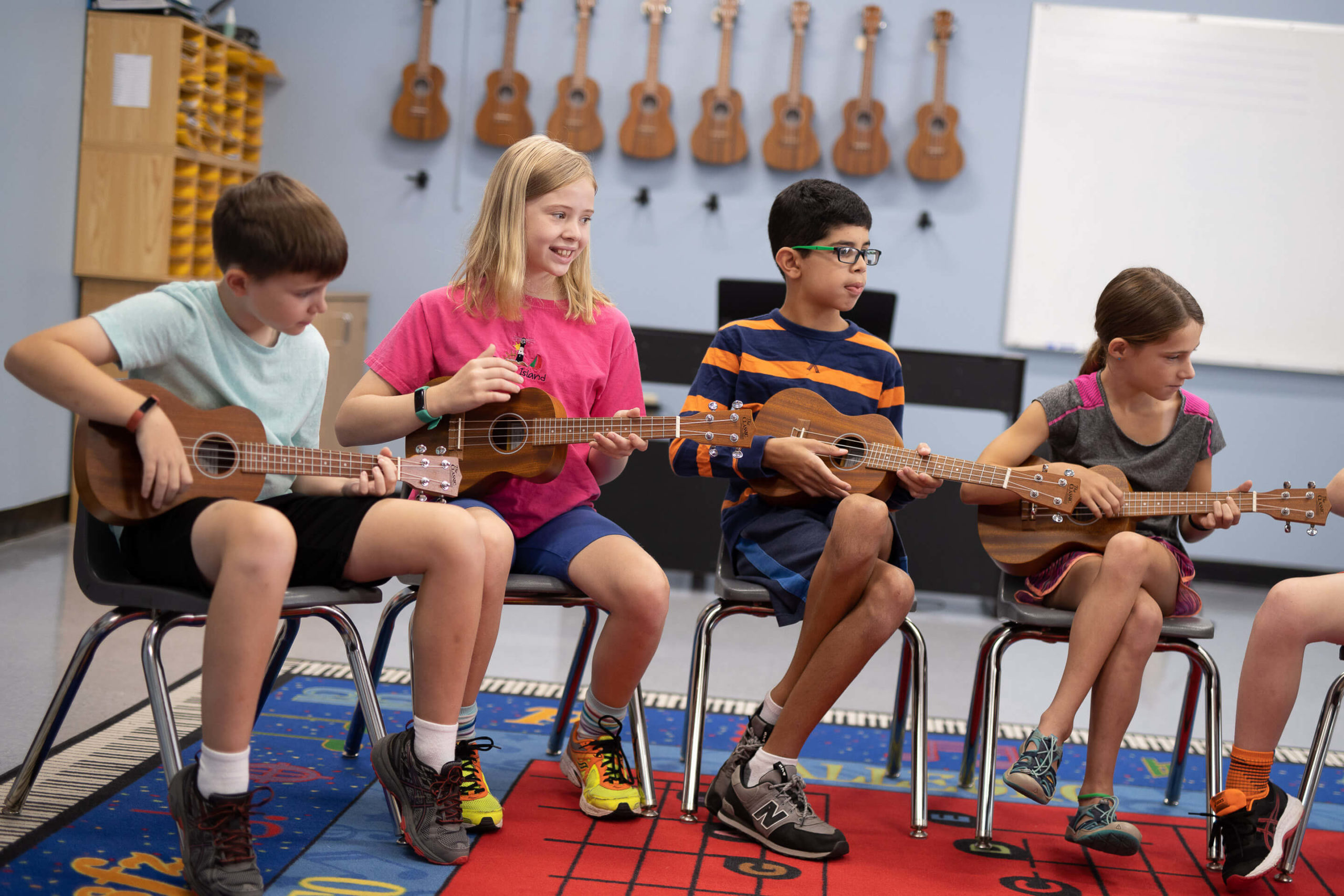 The TDS music program focuses on the development of musical literacy through hands-on, student-centered, discovery-based learning. Students develop skills in collaboration, problem-solving, and creativity through singing games, composition, and playing instruments. Music appreciation is developed through listening, responding, and analyzing music. Students have the opportunity to perform at various school events, including two whole school performances each year.
In addition to weekly music class, 3rd-5th-grade students can participate in a Lower School Chorus. Middle School students are able to join a chorus or handchimes ensemble to continue their music education. All ensembles perform at multiple events throughout the school year, including a Winter and Spring Concert.
Physical Education
The primary goal of TDS physical education curriculum is to promote fitness and healthy lifestyles. Students participate in a movement-based curriculum as they are challenged to understand the relationships involving self, space, equipment, and others around them.  Inclusive activities promote the refinement of skills and the introduction of combination skills involved in more complicated activities and games.  Group activities, cooperative games, and problem-solving are integrated into more physically demanding situations, allowing students to challenge their skills while building their concept of self.