SciOly and Odyssey Teams Advance to the Next Round
The middle school Odyssey of the Mind and Science Olympiad teams have been hard at work preparing for and competing in their regional competitions!
Odyssey of the Mind
Odyssey of the Mind is a creative problem-solving competition. Participants solve a wide variety of problems, from building mechanical devices such as spring-driven vehicles to giving their own interpretation of literary classics. Our Odyssey of the Mind team participated in the North Carolina Eastern Regional Showcase over the first weekend of spring break. After some helpful feedback from the judges, the team is hard at work once again, refining their solution for the state competition in early April.
---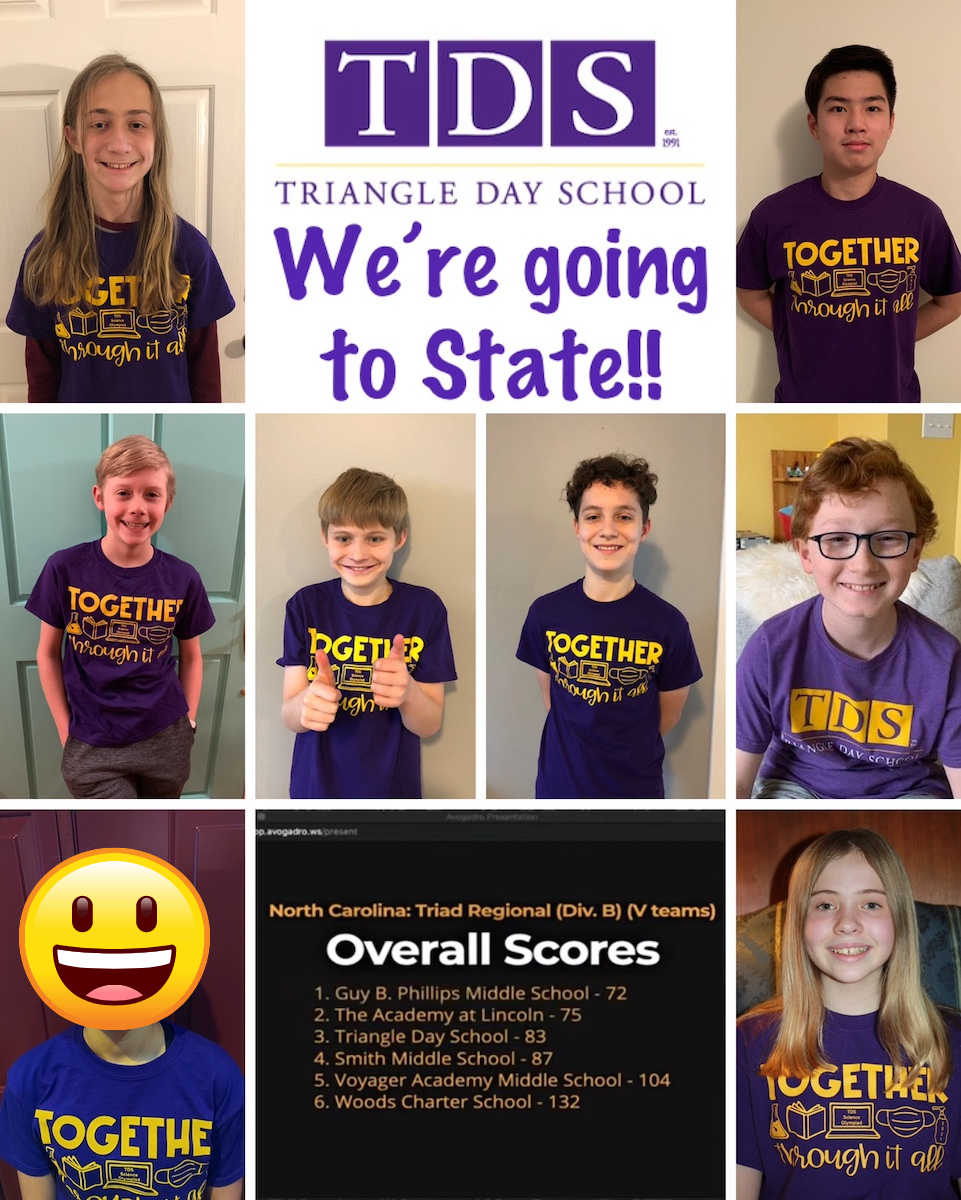 Science Olympiad
Over the course of 2 Saturdays, eight TDS middle school students competed virtually in 23 different STEM events at the Triad Regional Science Olympiad tournament. Every student on the team earned a medal and five events took home 1st place. Overall, our team placed 3rd out of 15 teams earning them a spot at the State Tournament on April 24 virtually hosted by NCSU.
Individual medal winners and their events were:
Event
Place/Medal
Students
Anat & Physiology
1
Oliver Guan
Conlan Sharp
Crimebusters
6
Oliver Guan
Henry Blackwell
Digital Structures
1
Nureen Khan
Density Lab
6
Anna Taylor
Henry Blackwell
Disease Detectives
3
Joseph Schneider
Wil Schneider
Dynamic Planet
6
Nureen Khan
Joseph Schneider
Exp. Design
4
Nureen Khan
Matthew Collier
Food Science
2
Oliver Guan
Wil Schneider
Fossils
2
Conlan Sharp
Joseph Schneider
Game On
3
Joseph Schneider
Henry Blackwell
Heredity
2
Oliver Guan
Wil Schneider
Machines
5
Anna Taylor
Henry Blackwell
Meteorology
2
Nureen Khan
Mission Possible
4
Nureen Khan
Mousetrap Vehicle
3
Anna Taylor
Ornithology
1
Conlan Sharp
Reach for the Stars
3
Anna Taylor
Conlan Sharp
Road Scholar
1
Nureen Khan
Water Quality
1
Oliver Guan
Nureen Khan
Write It, Do It
4
Anna Taylor
Henry Blackwell
Please congratulate all our team members on an outstanding performance!