Community Service
The Triangle Day School service program is multifaceted and focuses on helping students examine social justice issues critically and determine ways they can positively impact the world around them. All grades take on independent service projects, but the entire community continuously works together to provide hunger relief locally and worldwide.
As a cornerstone of the Triangle Day School community service program, the Student Council has initiated a school-wide partnership with TABLE-Chapel Hill, a local non-profit organization that works to end childhood hunger in Chapel Hill and Carrboro. TDS families and students participate by sending in non-perishables, which a TDS class then delivers to TABLE. At the TABLE warehouse in Carrboro, TDS students have the chance to pack backpacks with food. Backpack Buddies, a program that provides food-insecure students with food over the weekends and school breaks, then delivers the backpacks to schools. Student Council has also decided to 'charge' students one non-perishable item to enter the middle school dances this year.
The entire school will also come together to participate in a food packaging event for Stop Hunger Now, an organization that provides meals to food insecure communities worldwide. In March the entire school will pack over 10,000 meals in an hour and a half. In order to raise the money for the food packaging event Student Council sponsored a Penny Wars Competition and hosted a carnival for the lower school students. Lower School  students paid a quarter to play a "Minute to Win It" style game.
In the younger grades, teachers actively discuss community, civic responsibility, and various social justice issues, including hunger. Texts, such as Maddi's Kitchen by Lois Brandt, help kids understand the complex topics. The social studies curriculum augments many of the discussions regarding citizenship, rights and responsibilities and an individual's role in the community.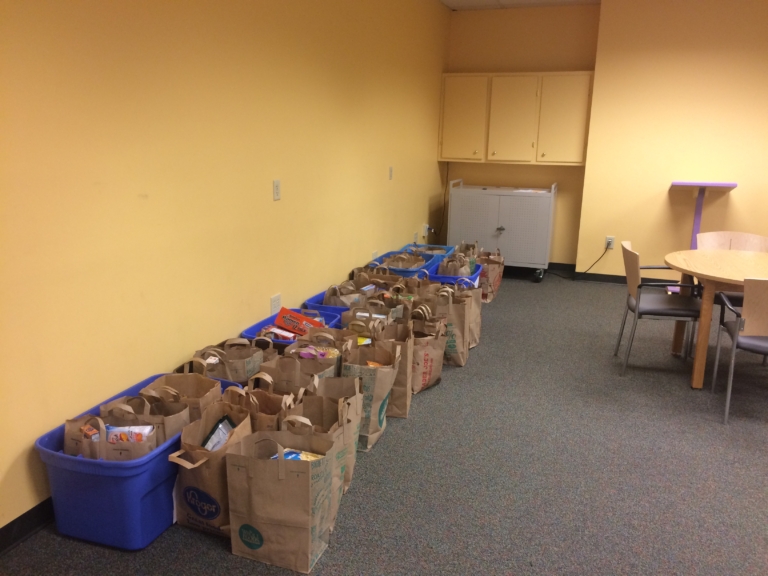 The students then deepen and expand on their knowledge through hands-on experiences. Several lower school classes have visited the Senior CommUnity Center in Durham. TDS students have made new friends at the senior center by engaging the elderly in arts and crafts activities, book readings and performances.
Other classes and the after school program have helped alleviate hunger through Urban Ministries of Durham. Students bagged powdered milk, stocked the food pantry at UMD and wrote inspirational messages on lunch bags for residents. The director of community engagement at UMD came and spoke to our entire lower school and challenged each child to bring in an item of clothing to donate the next day. It was
Individual teachers and classes continue to have smaller service projects that speak to their heart's mission in life. For example, every year the kindergarten and 3rd grade classes work together to have a fall and spring lemonade stand for Alex's Lemonade Stand, the 1st grade continuously collects bottle tabs for the Ronald McDonald house and the TK are recycling experts.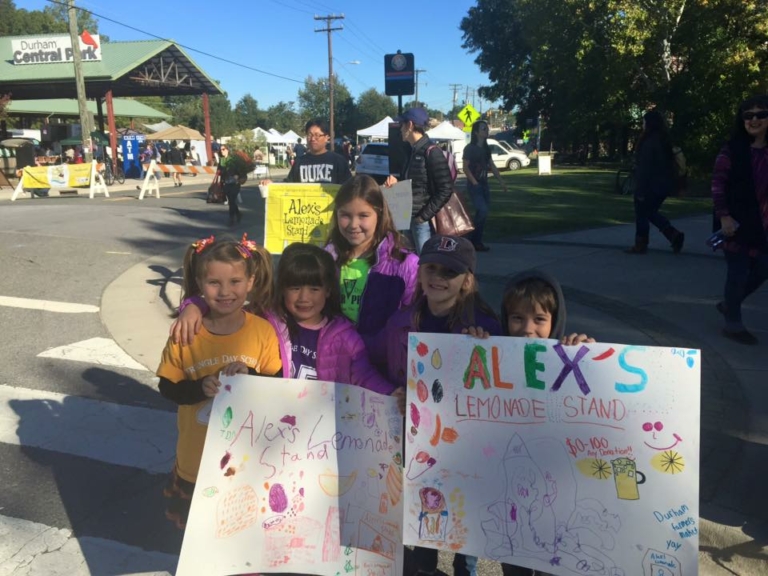 In the Middle School, students and teachers meet together during advisory discussions todevelop an understanding of some of the root causes and consequences of hunger, both here in Durham and abroad. Having gained insight and inspiration from powerful TED talks, Middle School students are then challenged to engage in small-group and large-group discussions to address complex questions related to the issue of hunger, such as:
Why is self-sufficiency superior to dependency?
In a world of abundance, is it acceptable that 1 in 9 people do not have enough to eat?
Is access to healthy and affordable food a basic human right?
How could we create a world free from hunger?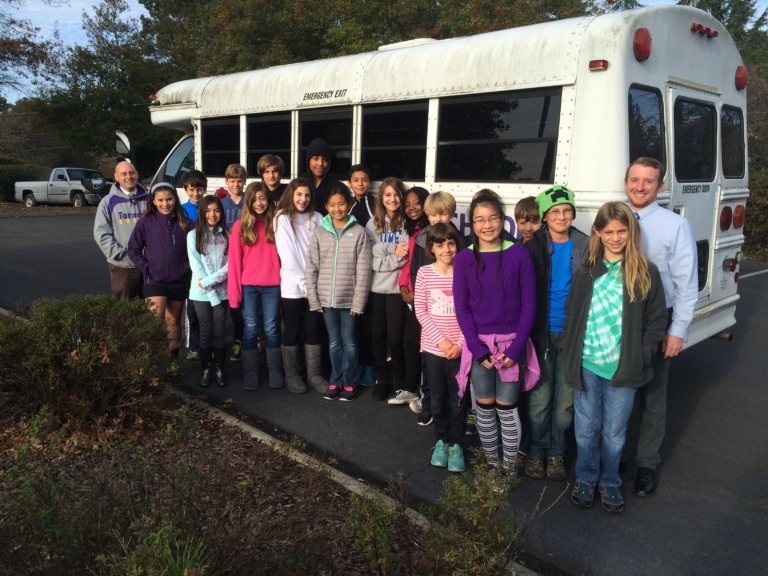 Throughout the school year, Middle School class groups will put their new understanding intoaction as they participate in service projects on the TDS campus as well as service field trips to community gardens, food pantries, and other local organizations working to address the issue of hunger here in Durham.
If you have further inquiries about service at TDS, please contact the Lower School Service Coordinator, Kate Newman.