February in Lower School
February has always been one of my favorite months. I know that people complain about cold, gray, rainy days that go on forever, but that's not what I see. I see a month overflowing with chances to explore, learn, and celebrate. Lower School students are learning about kindness, heart health, great Black achievers, groundhogs, weather systems, careers, and so much more. You can read about their experiences below.
TK students are always busy and inquisitive. This month, they have explored their five senses and learned to draw a jungle and animals from the art of Henri Rousseau. They also joined the Kindergarten class for a performance of Pout-Pout Fish and the Legend of the Lost Pearl. Kindergarteners have also been thrilled to have their family and friends come to the school to talk about their careers and the tools they use at work.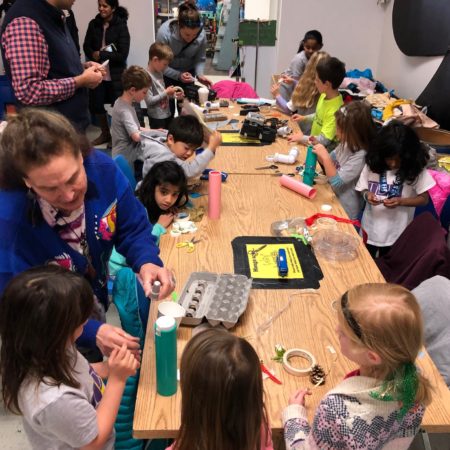 First grade shares, "We enjoyed a field trip to the Scrap Exchange where we got to make anything we wanted out of scraps and reused items. We have been talking about how to protect and take care of our environment. We also started our Lego unit in Science where we have been learning all about gears. We celebrated the 100th day of school by measuring, counting, making art, and thinking all about the number 100. We also learned about Punxatawney Phil and what happens on Groundhog Day!"
In second grade, students have been exploring historical figures such as Langston Hughes, George Washington Carver, and Maya Angelou. Second graders have also been working on autobiographies including details about the history of their name, family culture, and their family traditions. In third grade, students went on a field trip to the Carolina Theater to see Snowy Day. After the performance, they visited the Durham Civil Rights Mural, reflecting on the different parts of history illustrated in the mural, as well as what it means for Durham today.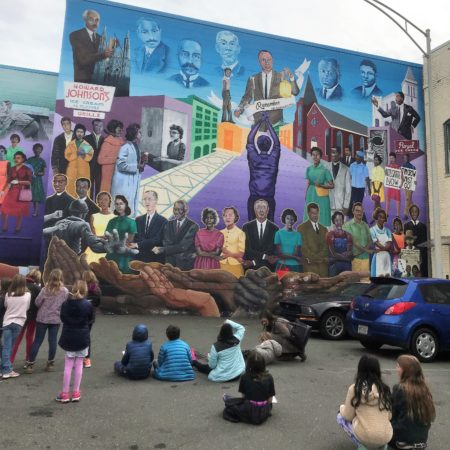 Fourth and fifth graders have been practicing kindness to one another as they deliver gifts to their Secret Valentines. In addition, fourth graders have been reading about people who have fought for Civil Rights, including Martin Luther King, Jr., Nelson Mandela, and Elizabeth Jennings Graham, who fought for her right to ride a streetcar in New York City in the nineteenth century. They have also learned about North Carolina's state government and state symbols in preparation for their visit to our state capital. Fifth graders have been hard at work on their projects for next week's Science Expo, as well as their biography projects that you can see on display in the back building.
The book fair will cap off our excitement at the end of the month. TDS Librarian, Jennifer Phillips, shares: We are excited to announce The Bedford Falls Book Fair will be coming to TDS the week of Feb. 24-28! Shop before and after school, or during Parent-Teacher Conference Day! All proceeds will help us continue to grow our school and classroom libraries.
Volunteer sign up
Spotlight list of diverse books also offered at the fair
Amie Tedeschi
Lower School Coordinator