Head of School's Blog
You'll recall that, two weeks ago, I decided to "open the vault" and share some of my old newsletter missives about my own children. Today's installment focuses on Will Norry, now a high school senior, and the start of his writing career.
---
My son completes his homework at the kitchen table. While this arrangement has much to do with the fact that his room is a mess, it does facilitate our ability to look over his shoulder. When I arrived home last week, I learned that his assignment consisted of writing six sentences. Not exactly preparation for college, I thought, but after all this is only second grade. Besides, with some semicolons, commas, and conjunctions, he could probably produce a masterpiece. When Will got up to raid the snack drawer, I focused my attention on his journal. It read as follows:
"My name is Will. I see mom. I see dad. I see the table. I see a napkin. I see a cup."
At that moment, the next fourteen years of Will's life flashed before me. I remembered every high school term paper, as well as churning out five-page paper after paper in college. Writing has been an important part of my life for the past 25 years, and while I was staring into the eyes of a seven-year-old, I had a vague notion that "I see a cup" wasn't going to win any awards.
Unsure of what to do next, I asked Will why all of his sentences were so simple and so similar. Not surprisingly, he pointed out that he had, in fact, completed the assignment. Over the next few minutes, our conversation escalated into an argument. As I talked about exceeding basic expectations and doing your best, he became increasingly frustrated. Finally, I put my foot down and made him compose another sentence. Will frowned, picked up his pencil, and got to work.
"Dad stinks."
I knew it was time to back off.
Parenting is a humbling experience, even more so when we focus too much attention on what we perceive to be real problems and then demand immediate solutions. Will does several things very well. He loves to read, cares for his two sisters, and regularly beats kids twice his age at chess. At that moment, however, my entire being was consumed with how to improve his writing and kick start his work ethic.
I'm learning from my mistakes, albeit slowly. Yesterday, I pushed Will to try a multiplication worksheet, figuring that if he could count by fives, he could find the product of nine and five. Sensing his frustration, I quickly put the worksheet away and picked up a deck of cards. This morning when I sat down with my bowl of cereal at the kitchen table, he was attempting the math problems again.
Sometimes kids need to be pushed, and sometimes they need the time and space to figure things out on their own terms.
Doug Norry
Head of School
I have been writing missives for the TDS newsletter – some more interesting than others – for the past seven years. Prior to coming to TDS, I wrote similar pieces during my eight years as head of a middle school in Maryland. Some of my favorites focused on my children. With their permission (more or less), I've decided to "open the vault" and share some of these stories in the weeks ahead. I hope you enjoy reading them half as much as I enjoyed writing them all those years ago.
---
For each of the past five weeks, I have taken my son Will (6 years) and my daughter Emily (4.75 years) to the Montgomery Aquatic Center on Sunday afternoon for a few hours of swimming. The activity is not dependent on the weather, and it tires them out. It's also less stressful and far less frustrating than watching the Redskins. We enjoy tossing the football, diving for the plastic seahorse, and jumping off the diving board.
On each of the past five Sundays, Emily has climbed the steps to the 3-meter high dive, walked the entire length of the board, curled her toes over the edge, leaned forward, stared at the water roughly ten feet below her, looked at me, and listened to my words of encouragement. She has then proceeded to turn around, retrace her steps, and return to the lower board. A few weeks ago, she informed me on the way home that she would take the leap when she turned five. This made sense to me; another three months and a dozen trips up and down would allow her time to warm up to the idea. This past Sunday, she followed the same ritual, but this time with a different result. Much to my surprise, she reached the end of the board and kept walking, plunging into the water below. I cheered wildly, gave her a huge hug, told her I was proud of her, and then watched her jump eight more times – she had crossed the threshold.
Reflecting on these past five Sundays, I realize that the 3-meter plunge represented a significant hurdle, one that required the buildup of a good deal of courage. To be successful, Emily needed time for this to happen. While it seemed as though she was not making any progress, she was actually getting closer each week. Finally, the timing of her success was impossible for me to predict. (In fact, just seconds before she jumped, I quietly assured another parent that she wasn't going anywhere.) I simply had to wait for it to happen.
In Middle School, our children face many hurdles which demand persistence and (at times) courage. Whether it's mastering the arts of organization and time management, learning how to study efficiently and effectively for a history test, understanding Shakespeare, developing as an essay writer, or having the guts to try something new, some kids do not succeed the first (or second or third) time that they try. Furthermore, it can be difficult to verify that they are making progress, until it happens.
As parents, we need to have patience and remain supportive. [I'm sure this is easier when it's a four-year-old jumping off a diving board as opposed to a 13-year old trying to "get" algebra.] We also need to recognize and celebrate the victories, even when they aren't as obvious. Later that night, Emily reported that her hands and stomach hurt after each jump, probably because she entered the water at a 45-degree angle. I actually think that she kept going, at least in part, because I was so excited.
Doug Norry
Head of School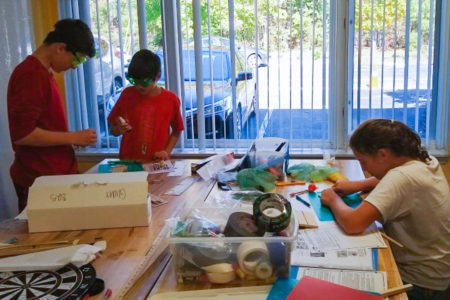 Stroll through the Kussin Commons on a Tuesday afternoon, and you'll see upper elementary students designing, building, tinkering, researching, experimenting, collaborating, and having fun. You'll also see a cadre of Lower School parents sharing their expertise and nudging the young scientists in the right direction. Stop by on a Saturday or Sunday, and you'll see Middle Schoolers happily engaged similar pursuits. Providing masterful vision, leadership, and organization is Lori Khan (MS Science), who brought Science Olympiad to TDS two years ago.
Founded in 1984, Science Olympiad hosts exciting tournaments and competitions in all fifty states that offer rigorous, standards-based challenges. This past Saturday, Middle School teams from twenty-two area schools competed in twenty-four different events, vying for an opportunity to advance to the State tournament in Raleigh.
All members of the TDS team medaled in at least one event, including:
1st place
Claire Collier and Kylie Hansell – Density Lab
Claire Collier and Merinda Harry – Dynamic Planet
Ian Mosquin and Conlan Sharp – Fossils
Brandon Fox and Cooper Phillips – Mission Possible
2nd place
Ana Dombrosky and Claire Collier – Ornithology
Oliver Guan and Jason Sorin – Water Quality
3rd place
Devon Lindberg and Kate Norry – Boomilever
Oliver Guan and Jason Sorin – Reach for the Stars
4th place
Merinda Harry and Conlan Sharp – Anatomy and Physiology
Oliver Guan and Jason Sorin – Disease Detectives
5th place
Lulu Burnside and Taleah Fields – Circuit Lab
Brandon Fox and Cooper Phillips – Mousetrap Vehicle
Kate Norry and Claire Collier – Road Scholar
6th place
Ian Mosquin and Conlan Sharp – Food Science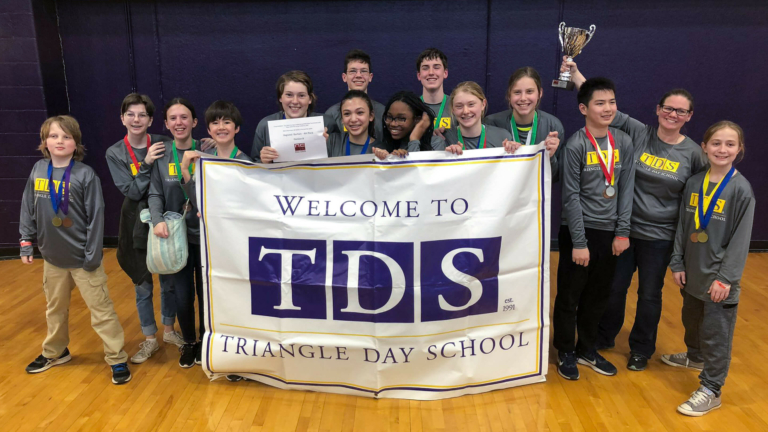 Two of our 8th graders winning one of several gold medals at SO today! pic.twitter.com/LqAbzab0BY

— Doug Norry (@NorryDoug) February 29, 2020
The biggest news came at the end of a marathon Saturday. With a 4th place finish, the TDS team has punched its ticket to Raleigh for the second straight year. Congratulations to Coach Khan and our entire team, and good luck to our upper elementary students, who compete on April 25th.
Doug Norry
Head of School
Twenty years ago, I taught 8th grade Physical Science at an independent school in Cincinnati, Ohio. At the time, I had mixed emotions about the annual Science Fair. Students certainly learned about the scientific method, and many grew more independent as they tackled projects over the course of a marking period. On the flip side, preparation ate up a sizable chunk of class time, and more importantly, judging the students was a stressful, imperfect process. I still remember a father formally challenging his son's scores, at least in part because he had a bit too much ownership of the project.
I wish that, those many years ago, someone had introduced me to the TDS Science Expo. With more than eighty experiments, demonstrations, and research projects on display, and just as many budding scientists proudly displaying their hypotheses, results and conclusions, last night's Science Expo was a stunning success. During the first hour, students took turns standing by their projects and visiting those created by their peers. As I made my way around the gym, I learned that ice melts faster in water than in Coke or milk; what plants need to grow; how to make ice cream without a freezer; the ideal amount of yeast to put in bread; the science behind lip balm; and all about the absorbency of various fabrics. I also saw a density tower, lots of homemade slime, dry erase marker "ink" floating in water, as well as collections of rocks, minerals, and even shark teeth.
During the second hour, students and parents migrated to the Hardin Academic Center, where physics and chemistry students from Duke University led a wide variety of engaging, hands-on activities. Remnants from the "glitter smoothies" might be in the Commons for the rest of the year! Finally, Trinity School seniors were on hand to show off their robot, and our students (and Mr. Forringer!) had the chance to drive it through a complicated maze.
It was wonderful to see so many of you supporting your children last night. In particular, I'd like to thank Dan Forringer, Karen Fisher, Erin Nelson, and Lori Khan for their hours of planning, organizing, and working with our young scientists. Our students chose a topic of personal interest, performed research, designed and carried out experiments, and displayed and explained their results. February is Career Month at TDS, and many of our students are well on their way to prolific careers in the sciences.
Looking ahead, our Lower and Middle School Science Olympiad teams enter their competitions in the next month. I look forward to sharing about that in future letters. Finally, while Pi Day takes place over Spring Break, our annual Pi Recitation Contest – the signature event during a fun-filled Math Week – is exactly one month away. Click here to begin memorizing your digits!
Doug Norry
Head of School
A few days after Christmas, the Norry family headed West in search of fun, adventure, and larger-than-life family moments. We had a fabulous time, and there's certainly plenty to remember from our trip. That said, a funny thing happened when a fifth-grader turned my question around, asking me about the highlight of my vacation. I responded confidently and without hesitation: "Helping my daughter clean out her closet."
While I did not major in physics, my elementary understanding of the second law of thermodynamics (or the law of entropy) is that everything in the natural universe tends toward disorder. Kate's room is the perfect example of this. Through forces seemingly outside of her control, no matter how often she cleans and organizes, it always ends up a mess. And her closet? It's a good thing that space is not visible from the hallway!
Kate and I woke up on Saturday with no school, no homework, no club soccer, and very little on our to-do lists. After breakfast, I offered my organizational services, and to my surprise, she accepted. We grabbed some trash bags and got to work. I left my phone in my room and promised myself that I wouldn't judge. Not distracted by any electronic devices, I began to notice the small things. She tried on two-thirds of her clothes and generated two full bags of give-aways. In the process, I took note of which clothes she really likes. I think I can now tell her jeans from her sister's.
Even with fewer articles of clothing, we needed additional space, so we attacked the top shelves. Virtually everything we found led to a story: unopened bat mitzvah gifts, a pillowcase full of candy from Halloween (2018 or earlier), a photo album dating back to her days as a toddler, the complete set of Berenstain Bears books, artwork from Kindergarten, and various stuffed animals (of course, she knew when and how she acquired each of them). We laughed as we remembered both the milestones (her bat mitzvah) and the seemingly smaller moments (my reading to her each night), and we argued about the shelf-life of chocolate.
Though each story caused us to veer a bit off course, we eventually completed the task. While I'm still not sure if the newfound tidiness will take hold, I'm proud to report that, each of the past three evenings, I've found Kate doing her homework on the floor in her closet. Apparently, she now relishes having a neat space of her own.
In an article appearing in The Bump, Joanne Chen explains relational savoring in this way: "By taking the time to notice the moments you share with your child and relishing all the little details surrounding it, you enhance your emotional well being and overall life satisfaction." This might seem quite intuitive, but one of our greatest challenges as parents is to slow down, be mindful, live in the moment, and awaken to the daily experiences with our children. This past Saturday, I was able to do just that, and I emerged not only happier, but also feeling closer to my teenage daughter. Until someone figures out how to freeze time, taking stock of life's small moments will have to suffice. Whether you traveled far or stayed at home, I hope that the past few weeks provided you with many of these moments.
Doug Norry
Head of School