Head of School's Blog
To be clear, I love my three children…"to the moon and back," as I used to read to them. Most days, I stand in awe of how they handle the challenges thrown at them, and what types of people they are in the process of becoming. That said, we all have our moments.
Upon arriving home yesterday, I was greeted with this sight.
What specifically about the empty cookie box left on the kitchen counter caused my blood pressure to rise? My obsession with organization and order? My disdain for laziness? These no doubt contributed, but truthfully, it was my equating this act with self-absorption, and my newfound belief that our obsession with ourselves is the root of so many problems in our world.
It's not a coincidence that, just the night before, I finished reading Unselfie: Why Empathetic Kids Succeed in Our All-About-Me World by Michelle Borba. The author's thesis is twofold. First, empathy is "the one human capacity that allows us to link minds and hearts across cultures and generations to transform our lives" (xii), a true antidote to bullying, racism, and similar insidious practices of demeaning and disparaging others. Second, rather than an innate characteristic, empathy is "composed of teachable habits that can be developed, practiced and lived" (xiii). Given these two points, the development of empathy in our children should be a primary goal, both at home and at school.
Based on a comprehensive review of current research as well as Borba's firsthand observations in communities around the globe, Unselfie is both an elegant explanation of the core values and habits that undergird empathy, as well as a practical 'how-to' manual full of suggestions for how to build these traits in our children. Here is a sampling of Borba's components of empathy:
Empathetic children have a moral identity. Borba cautions against the over-praised generation, raised on the participation trophy. Instead, she encourages parents to align praise with character, identify core values within our homes, and even create a motto as a family.
Empathetic children understand others' needs. Focusing on how to intervene when our children fall short in this area, Borba posits that timeouts – when a child sits alone – are not necessarily more effective than spanking or yelling. To be sure, parents should call out and express disappointment over episodes of uncaring. We might also role play and even create scenarios at home where parents and children switch roles for a period of time. The Berenstain Bears and the Trouble with Grownups for a creative illustration of this.
Empathetic children practice kindness. Several studies point to a link between performing kind acts and feeling happy. Moreover, kindness is contagious in any community. At TDS, Mrs. Durham consistently encourages all of us to be bucket fillers. We even have public places to write compliments. This could work just as well at home.
Beyond the specific examples, two of Borba's points hit home with me. One, "empathy is driven by face to face connection" (218). Contrast this with a national survey in which 62% of kids rated their parents as "too distracted" when they try to talk to them (10). If we want to raise empathetic children, it starts with putting down our screens. Secondly, Borba links empathy to success and happiness. This isn't simply about engendering moral courage and thus making the world a better place. To return to Mrs. Durham's world, happiness isn't achieved through the selfie; the best way to fill our own bucket might just involve filling the buckets of others.
Sincerely,
Douglas E. Norry
Head of School
doug.norry@triangledayschool.org
In addition to our Mission and Core Values, TDS has five Guiding Principles which help define who we are and what we attempt to accomplish as an institution. One Guiding Principle reads as follows:
An Educational Partnership: Family, faculty and staff communicate openly, working together to promote student growth and success.
Before the winter holiday, parents were asked to further this open communication by completing a comprehensive survey about their children's experiences at TDS. In all, 92% of families took this survey, which offers us both a treasure trove of data as we look to improve on what we do here, as well as strong confidence in the results.
You might recall that the first survey question asked parents how likely they were to recommend TDS to a friend (on a scale from 1 to 10). This question is actually used across multiple industries to establish a Net Promoter Score (NPS). In essence, the NPS is an index ranging from -100 to 100 that measures the willingness of customers to recommend a company's products or services to others. It is used as a proxy for gauging overall satisfaction. If you're interested in learning more about this index, click here.
To calculate the NPS, responses are first grouped into one of three categories:
Scores of 1 through 6 are Detractors.
Scores of 7 and 8 are Passives.
Scores of 9 and 10 are Promoters.
The NPS is then determined by taking the percentage of Promoters and subtracting the percentage of Detractors. Therefore, NPS scores can range from -100 (all Detractors) to 100 (all Promoters).
What is a "good" NPS score? The answer is really twofold. First, it's not as high as you might think. One leading source on the subject offers this chart:
Two, NPS scores depend mightily on the specific type of industry being measured. For example, here are average scores for three different industries:
Airlines – 44
Health Insurance – 13
Cable / Satellite TV – 1
NPS scores tend to be higher for private schools. In fact, the Southern Association of Independent Schools compiled more than 30,000 responses among member schools between 2013 and 2016. Averages were as follows:
Lower School Parents – 65
Middle School Parents – 59
How does TDS compare amidst all these numbers. I'm thrilled to share our averages (based on more than 200 responses):
TDS Lower School – 86
TDS Middle School – 94
Overall School Average – 87
Organizational psychologists in the audience can attest to the incredible strength of these NPS numbers. We appreciate your confidence and trust as we strive to guide your children in the direction of the TDS core values, and toward lives of purpose.
All of that said, let me return to the original purpose of the survey – our desire to gather meaningful feedback and use it to improve in many areas. Along those lines, we continue to pore over the results, look for patterns, and share them with all teachers individually. In the meantime, we continue to devote time and attention to our academic program. This morning, faculty met in small groups to discuss what and how we teach in the areas of literacy, language arts, and social studies. Teachers shared essential questions, content, and skills, asked questions of one another, and examined transitions between grade levels. Next week, I'll share an update of recent work related to diversity and inclusion. In two weeks, we look forward to both working with a consultant to fine-tune our math program in the Lower School and sending our Middle School teachers to observe classes at independent schools around the Triangle.
Always striving to improve, we aim to model a growth mindset for your children. Thank you for providing feedback which helps fuel this process. On a final note, since the overwhelming majority of you identify as "promoters," please consider doing just that. If you know families who might be a good fit for TDS, please share your stories, invite them to campus, or put them in touch with Deb Newlin. In addition, please consider writing a review of TDS here. Thank you for being such great ambassadors for TDS.
In advance of Monday's holiday, all students at TDS have learned about the life, work, and legacy of Dr. Martin Luther King, Jr. During this afternoon's assembly, after an introduction by Mr. Mercado, students from several classes then shared what they have worked on and learned. Here are some highlights:
Kindergartners discussed the difference between Dr. King's dreams and nighttime dreams. Students shared some of their own dreams for the world, including:
Melody – "That we take care of our school."
Liam – "That everyone has a safe place to live."
Palak – "That kids help moms and dads clean up."
First graders learned how Dr. King showed courage and used peaceful strategies to change unfair laws. Seven students shared ways they can be peacemakers at home, at school, and in our community. Sydney said:
At home – "By helping my brother."
At school – "By helping others when they fall down."
In the community – "By picking up litter in my neighborhood."
Along similar lines, second graders wrote and shared their own dreams for their classroom, school, and community. Here are Dominick's dreams:
Classroom – "People will get treated the way they deserve to be treated."
School – "Everyone has a friend."
Community – "No one will litter."
After reading Dr. King's "I Have A Dream" speech, third graders identified and then reflected on their favorite parts. Here are excerpts from reflections that were shared today:
Evan: "From every mountainside, let freedom ring." This movement should keep on moving. We should never let go of Martin's dream. Martin Luther King once said that you should never fight with your fists, but with your words. He said we should join forces and become friends and family in order to love each other. He said that when we do that, we will ALL be free at last!
Reeve: "1963 is not an end, but a beginning. We cannot walk alone, we cannot turn back." I can keep Martin Luther King Jr.'s dream alive by being a friend to all. I can keep his dream alive by talking to people in my community about how bad segregation was. I can keep his dream alive by making all people feel good about them
selves. I can keep his dream alive by helping everyone have a bright heart."
Similar to many of their younger peers, eighth graders began with Dr. King's famous speech, using it as a springboard to write poetry incorporating his language. They also learned that in 1958, there was an assassination attempt on Martin Luther King, Jr. It was later said that the knife wound was so close to an artery that if he had merely sneezed, he would have died. This inspired Kyle to write this stanza:
I'm glad you didn't sneeze
I wouldn't have seen the mountaintop
Me, Kyle, a little boy from Durham
7 lbs, 7 oz on August 26, 2004
Am glad he, Reverend Dr. Martin Luther King Jr. didn't sneeze
Today's assembly concluded with a video of Dr. King's speech, delivered in our nation's capital in 1963. I'd like to acknowledge and thank all of the students who shared today, all of the teachers who helped them prepare, as well as Mr. Mercado for helping to plan and orchestrate the assembly. May we all continue to move purposefully in the direction of Dr. King's dreams.
Happy New Year, and welcome back to school. In the days ahead, I encourage you to take a stroll through our main building, back building, and gymnasium. Things at TDS are looking brighter. Literally.
As part of an ongoing effort to upgrade the school's facilities, the TDS Board of Trustees voted unanimously in October to take full advantage of the Duke Energy Small Business Energy Saver Program being offered to non-profit schools. This project, researched and led by Facilities Committee Chair Tom Farin (GP '20, '23), entailed replacing all fluorescent lights in these three buildings with energy-efficient LED lighting. Work crews finished the upgrades over the winter break. In all, Duke Energy covered nearly 40% of the project cost, including all new fixtures, LED lighting, and installation. Furthermore, Duke ordered all of the appropriate materials and provided an experienced installer who was familiar with these particular products.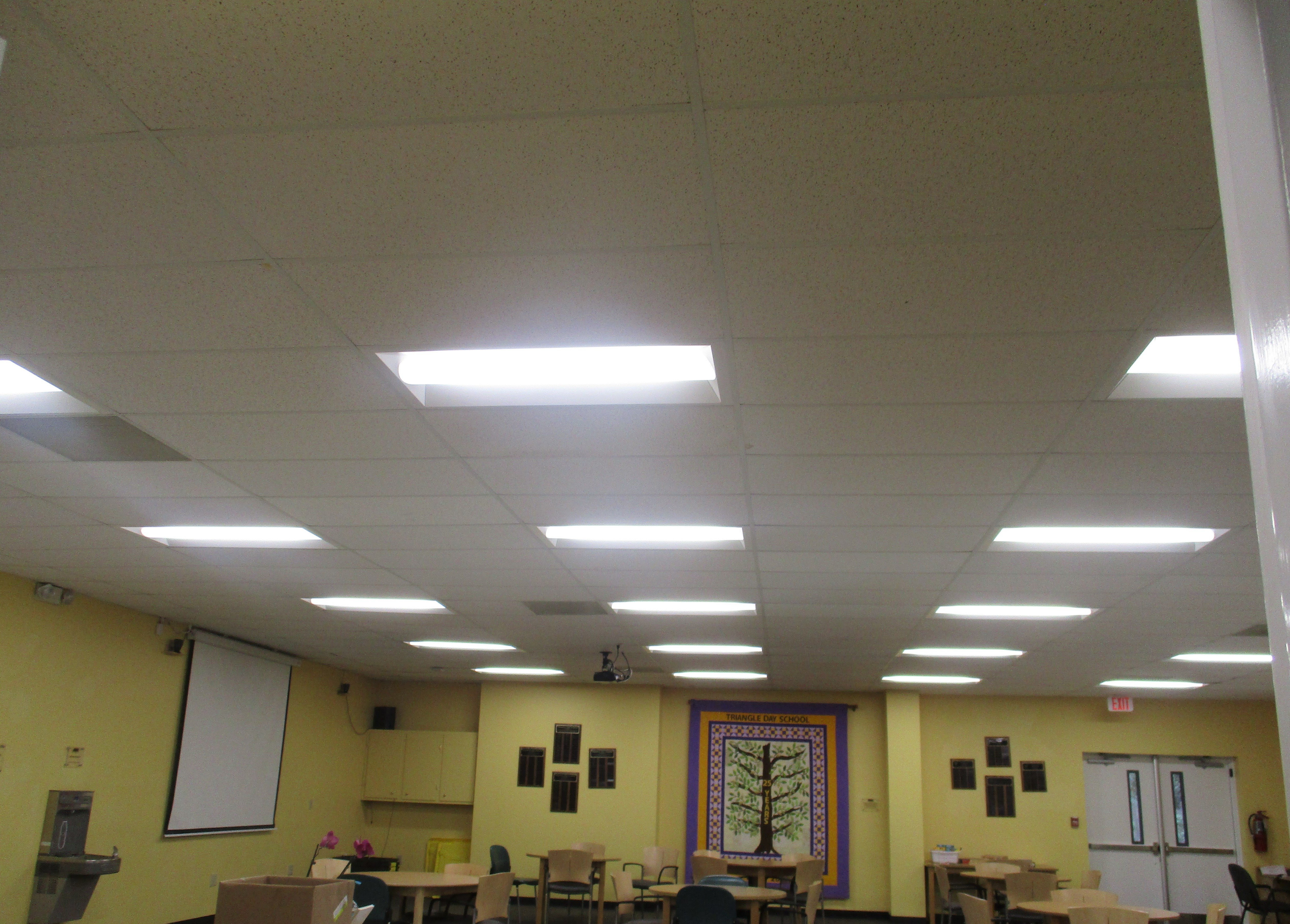 The benefits to TDS are several:
Long-term Financial Savings: Prior to this upgrade, flipping the switch in a classroom meant using approximately 1,060 watts of electricity. With the LED lights, the new total is 260 watts, a reduction of 75%! Doing the math, we expect to save $10,000 per year in energy costs, which means that this project will pay for itself in less than five years. In fact, this estimate is likely conservative; given that LED lights generate less heat, this change should also reduce the load on our HVAC units.
A Greener Future: Beyond the financial savings, this upgrade will have a positive impact on the environment. It's likely that TDS will cut its overall energy consumption by 104,000 kilowatt-hours per year. According to the EPA, this is equivalent to NOT emitting approximately 162,000 pounds of carbon dioxide into the atmosphere. Preparing our children to be tomorrow's leaders means helping them understand the many stressors on our planet. Along these lines, we are delighted to take a small step in the green direction by reducing our carbon footprint.
A Clean, Uniform Appearance: The new light fixtures look very similar to those in the new Hardin Academic Center, providing uniformity to the interior appearance at TDS. Moreover, as one parent noted, the LED fixtures serve to "modernize" the interior appearance of the three buildings, offering a newer and cleaner look.
Less Maintenance: Changing a bulb in your living room might not provide much of a challenge, but what about the TDS gymnasium? As you probably know, LEDs have the added benefit of lasting much longer than fluorescent lighting. How much longer? The classroom fixtures have a rated life of 70,000 hours. Doing some more math, it might be 28 years before we change a bulb! And the gym? Those lights have four times the lifespan. If your great-great-grandchildren attend TDS, it's conceivable that they'll see the gym through light from the bulbs installed last week!
Please join me in thanking Tom Farin for helping TDS see the light regarding all the benefits to this project. If you're interested in learning more about this program, please contact David Awad, Energy Service Representative for Duke Energy.
Sincerely,
Douglas E. Norry
Head of School
In the fall of 1995, after what has been described as "several years of debate," the TDS Board of Trustees decided to hold an auction. Patty McClendon and Sharon Myers chaired the first event, titled "Champions at the Speedway," which took place at Croasdaile Country Club. Generating a profit of $12,000 (which far surpassed the $5,000 goal), the first auction was hailed as a smashing success.
Now celebrating its 24th anniversary, the TDS Auction remains both a wonderful community event and, along with the Annual Fund, the primary fundraising mechanism for the school. This year, Andi Neely, Tasha Seyler, Kelly Travis and their team of volunteers invite you to join us at the Bay 7, American Tobacco Campus in Durham on Saturday, February 23rd at 6:30 for Casino Royale. Click here to purchase your tickets! Prices increase beginning January 1, so please act now. As an extra incentive, the class with the highest percentage of tickets purchased by February 1st will earn an ice cream party.
Funds raised at the auction directly support the School's operations this year. Specifically, auction proceeds allow us to attract and retain an outstanding faculty and staff; support athletics, technology and the arts; continue to upgrade our facilities; send teachers to local, regional, and national conferences for professional development; offer financial aid to many families; and much, much more.
In recent years, the Fund-A-Cause has become an integral component of the auction, with donors raising their paddles in support of a specific initiative. This year, I am thrilled to announce that Fund-A-Cause dollars will go toward the purchase of a bus or van. Many of you know that one of our TDS buses is approaching the end of its lifespan, so this purchase is critical to supporting our many field trips, community service ventures, and Middle School games. Most importantly, all students will benefit from this upgrade.
The TDS Auction has generated many wonderful memories over the years. This will be my seventh Auction, as TDS was good enough to invite me and my family in February, 2013, four months before we officially relocated to North Carolina. I sincerely thank all of you who have donated time and items thus far, and I encourage you to join us on February 23rd. If the spirit moves you, come dressed to be in a James Bond film, enjoy a delicious meal with friends, bid on a fabulous experience with your child's teacher, and raise your paddle to help us expand and update our fleet of vehicles at TDS. Click here to learn more. Sponsoring a teacher to attend the Auction is also a wonderful way to support the faculty and the school. I hope to see you at Bay 7!
Those who consider themselves true fans of Bond films, or true wizards when it comes to Google research, should take the quizbelow. Submit answers to me. A winner will be announced on February 23rd. You must be present to win!
1. Which James Bond actor was recognized for his work with the children's charity, UNICEF?
2. Which film was also the name of Ian Flemming's house in Jamaica where he wrote several Bond novels?
3. In Tomorrow Never Dies, fifteen cars were destroyed. What were the make and model of these cars?
4. Which Bond film was originally planned to be shot in Iran?
5. Which three Bond films have a word that appears twice in the title?
6. Which is the first Bond movie to feature a main villain who is female?
7. Who is the first James Bond actor younger than the series itself?
8. Claudine Auger played Domino in Thunderball. What honor did she win at age 15?
9. Which is the first Bond film to be based on an Ian Flemming short story (rather than a novel)?
10. Which Bond film has won the most Oscars?
Sincerely,
Douglas E. Norry
Head of School