Governance
Triangle Day School's Board of Trustees is a group of current and former parents, alumni, and community leaders who volunteer their unique talents and experiences to ensure the School's continued success. The Board is responsible for supporting the School's mission, overseeing its fiduciary responsibilities, and assisting the Head of School in carrying out the school's long-term strategic plan.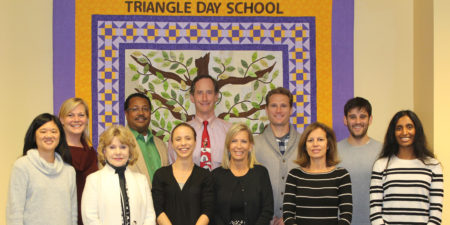 For the 2016-2017 school year, the Board consists of 12 voting members:
Kelley Keats, Chair – Current Parent '18, '21
Purnima Valdez, Vice Chair – Current Parent '22, '25
Ryan McDevitt, Treasurer – Current Parent '23, '25
Sabrina Schneider, Secretary – Current Parent '21, '23
Vaishali Mankad – Current Parent '20, Alumni Parent '16
Joanne Dellaero – Alumni Parent '08, '10, '15
Jan Riggsbee – Community Leader
Tammy Fox – Current Parent '18, '20, '25
Gabriel Kussin – Alumni '01
Carroll Stone – Current Parent '22 '24
Lloyd Patillo – Current Parent '16, '17
Bud Lichtenstein – Community Leader
The Board handles the majority of its business through these standing committees, which meet regularly:
Executive Committee: The Executive Committee is comprised of the Chair, Vice-Chair, Treasurer, and Secretary. The Executive Committee may meet at the call of the Chair to advise the Chair and the Head of School.
Finance Committee: The Finance Committee is comprised of Trustees and non-trustees. It meets regularly with the Head of School and Business Officer. The Finance Committee is responsible for overseeing the annual budget and financial affairs of the School.
Trusteeship Committee: The Trusteeship Committee is responsible for identifying, cultivating, and recommending for nomination future Trustees nominations.
Development Committee: Comprised of Trustees and non-trustees, the Development Committee is responsible for Board-initiated institutional advancement and fundraising, including annual fund, capital campaign, auction, endowment funds, and gifts.
Facilities Committee: The Facilities Committee is comprised of Trustees and non-trustees. The Committee along with the Head of School is responsible for reporting on the overall management of the facilities.
Special Committees for 2016-2017:
Diversity Committee
Board members are nominated by the Trusteeship Committee and elected by the full Board. New Board members are selected based upon the immediate and long term needs of the School, and for their commitment to the School. The full Board meets at least six times a year, on and off campus, to receive and discuss reports from the Head of School and other administrators, Board Committees, outside consultants and students, where appropriate.